JEUX DE SKATE : LA GUERRE DES BANDES SON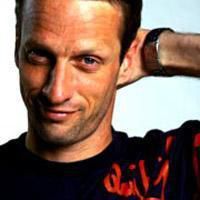 Activision vient de publier la bande son de Tony Hawk's Proving Ground. Une tracklist très cool car Tony est un mec très cool qui aime passer la main derriere la nuque parce ce qu'il le vaut bien. "Salut moi c'est Tony et je kiffe, j'ai presque 40 ans mais je veux me faire passer pour un gamin cool de 17 ans".

C'est l'occasion de comparer la bande son à celle de son nouveau rival : Skate de Electronic Arts :

TONY HAWK'S PROVING GROUND
SKATE
!!! : All My Heroes are Weirdos
Airbourne : Girls in Black
Angels & Airwaves : Secret Crowds
Anglo Jackson : Motorbike
At the Gates : Slaughter of the Soul
Bad Brains : Banned in DC
Beastie Boys : Electric Worm
Blackalicious : Your Move
Bloc Party : Version 2.0
Cursed : The Hands will Abide
Cymande : Fug
Dag Nasty : Circles
Darkest Hour : Sanctuary
DJ JS-1 : Audio Technician
El-P : Up All Night
Folk Implosion : Natural One
Foo Fighters : The Pretender
Fu Manchu : We Must Obey
Funky 4+1 : Rappin and Rockin the House
Future Pigeon : Gift Tax
Gallows : Come Friendly Bombs
Gorilla Biscuits : Hold Your Ground
Jimmy Castor Bunch : It's Just Begun
Jurassic 5 : Radio
Kittens : Carpenter
Los Abandoned : Panic-Oh!
Lyrics Born featuring KRS-One and Evidence : Pack Up Remix
Maylene and the Sons of Disaster : Memories of the Grove
Motorcity Daredevils : Bear in the Air
Nation of Ulysses : You're My Miss Washington D.C.
Nirvana : Breed
Oh No feat. J. Dilla and Roc C. : Move Part 2
Paint it Black : The New Brutality
Paris : The Devil Made Me Do It (Poach a Pig Mix)
Percee P : Throwback Rap Attack (Madlib remix)
Pierce the Veil : I'd Rather Die than Be Famous
Pig Destroyer : Loathsome
Reverend Horton Heat : Baddest of the Bad
Revolution Mother : Come On
Roots Manuva : Chin High
Sayvinyl : That's Entertainment
Silversun Pickups : Well Thought Out Twinkles
Slick Rick : Children's Story
Smashing Pumpkins : Tarantula
Snapcase : Energy Dome
The Bled : Starving Artiste
The Clash : Clash City Rockers
The Cramps : Garbage Man
The Icarus Line : Gets Paid
The Kooks : See the World
The Octopus Project : Music is Happiness
The Rolling Stones : Sympathy for the Devil
The Sex Pistols : Holidays in the Sun
Twilight 22 : Electric Kingdom
Agent Orange - "No Such Thing"
Airbourne - "Let's Ride"
Bad Brains - "I Against I"
Band of Horses - "The Funeral"
Beat Beat Beat - "Sinking Slow"
Black Flag - "Six Pack"
Booker T. & The MG's - "Green Onions"
Challenger - "Input the Output"
Cheap Trick - "Surrender"
Children of Bodom - "Hate Crew Deathroll"
David Bowie - "Queen B****"
Dead Prez - "Hip Hop"
Devo - Gut Feeling/Slap Your Mammy"
Eddie Rap Life - "Push Your Wood"
Eric B. & Rakim - "Juice (Know the Ledge)"
Escalera - "Go It Alone"
Filthy Thieving Ba****** - "Lords Of The Avenues"
Gang Starr - "Now You're Mine"
H.I.T - "Drama"
Mac Mall - "Perfect Poison"
Motörhead - "We Are Motörhead"
Nirvana - "Lounge Act"
N.W.A - "Express Yourself"
Renee Renee - "Stand Up Talk Easy"
Rick James - "Give It To Me Baby"
Rick Ross - "Hustlin'"
River City Tanlines - "Black Knight"
S.T.R.E.E.T.S - "Georgia St."
Sicker Than Others - "Face Away"
Sister Nancy - "Bam Bam"
Slayer - "Raining Blood"
The Briefs - "Poor and Weird"
The Coup - "Ride the Fence"
The Dwarves - "Massacre"
The Exploding Hearts - "Your Shadow"
The Falcon - "Blackout"
The Mag Seven - "D*** Cemetery"
The Ramones - "Psycho Therapy"
The Returnables - "Teenage Imposters"
The Sex Pistols - "Pretty Vacant"
The Stars Misplaced - "Prophets And Kings"
The White Stripes - "Girl, You Have No Faith In Medicine"
Trouble Andrew - "Chase Money"
Valient Thorr - "Man Behind The Curtain"
ZZ Top - "Just Got Paid"

Alors, qui propose la meilleure bande son selon vous ?

A moins que tout ceci soit secondaire et que l'important soit le gameplay :
> Comparaison en vidéo