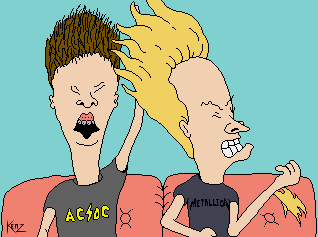 Voici la nouvelle liste mise à jour des chansons qui seront présentes dans

Guitar Hero III Legends of Rock

. Et même si il manque AC/DC y a pas à dire : "çà déchire grave" ! Prévu pour octobre aux USA on ne sait toujours pas si le jeu sortira en France avant Noël, ce qui rend le Gamopat un peu nerveux...

Welcome to The Jungle (Guns N' Roses)
One (Metallica)
Paint It Black (The Rolling Stones)
Cherub Rock (Smashing Pumpkins)
Sabotage (Beastie Boys)
The Metal (Tenacious D)
My Name is Jonas (Weezer)
Knights of Cydonia (Muse)
Even Flow (Pearl Jam)
Lay Down (Priestess)
Cult of Personality (Living Colour)
Miss Murder (AFI)
Through Fire and Flames (Dragonforce)
Number of the Beast (Iron Maiden)
3's and 7's (Queens of the Stone Age)
Suck My Kiss (Red Hot Chili Peppers)
Raining Blood (Slayer)
Reptillia (The Strokes)
Paranoid (Black Sabbath)
Cities on Flame (Blue Oyster Cult)
Mississippi Queen (Mountain)
La Grange (ZZ Top)
Rock and Roll All Nite (Kiss)
School's Out (Alice Cooper)
Rock You Like a Hurricane (Scorpions)
Slow Ride (Foghat)
Barracuda (Heart)

She Bangs the Drums (The Stone Roses)
Yeah ! That's cool Beavis !